Bodhi Kids is a model for mindful compassionate education that is steeped in the teachings of the Buddhadharma. There are several overarching principles that guide us though our primary one is that these programs remain open to all people of all affiliations, religious and secular. We aim to provide this model to Buddhist centers in Western countries, along with the networking support they need, to increase compassionate outreach via family programing.
Bodhi Kids was founded by Maya van der Meer, a mother living in Upstate New York. The first "beta testing" Bodhi Kids programs have been hosted by Karma Triyana Dharmachakra monastery (KTD), the largest Tibetan monastery in North America located in the beautiful Catskill mountains. The monastery serves as the North American seat of His Holiness the 17th Gyalwa Karmapa, head of the Karma Kagyu lineage. After significant program development and several programs we have learned A LOT. Our May 2013 Compassion Family Day drew over 60 people! Bodhi Kids provided significant amounts of consultation to KTD's national committee for educational outreach as well as on-location support over a 3-year period. Now, in addition to hosting four Bodhi Kids Family days a year, KTD is also developing their own programs catered to their unique status as HH Karmapa's main North American seat. This new programming for their local sangha and their network of KTC centers worldwide is called Karmapa Kids. Bodhi Kids applauds KTD for its commitment to family programing! Additionally, we are very happy to see how well the Bodhi Kids model comes to life and we are currently supporting other centers committed to this kind of activity around the world! We will have a submission form up soon for centers to apply for Bodhi Kids consultation and support. May all benefit!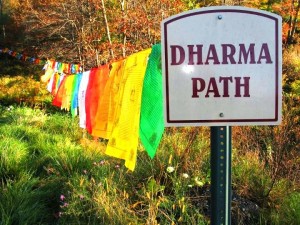 Bodhi Kids programs held at Karma Triyana Dharmachakra monastery (KTD) on a quarterly basis invite families to "have a break" and an enriching experience they can bring home with them. These programs are open to all families, Buddhist and non-Buddhist. The completed monastery with its excellent facilities, accommodations, and beautiful grounds are perfectly suited for families. There are many outlets for nature exploration surrounding KTD including the famous hike up Overlook Mountain (trail head directly across from KTD's gate) or the more gentle stroll on the Dharma Path leading to a beautiful field and pond. The best place to learn about upcoming programs at KTD is on the Bodhi Kids facebook page.